Hello, hello,
Well tonight I have for you guys an indie named "Emily De Molly". This is my first time trying this one out. I actually got it from a swap with a wonderful lady over at my favourite facebook page
"show me your top coats". I have to be honest with you, I had never even heard of this brand. Once I got this one, I did go on to their
etsy page
to see all their polishes and they have many beauties. Today, I have "Majestic flight" to show you. So, now that I have it on, it is a gorgeous, beautiful blue, jelly sandwich. I love it! I am so happy I decided to do a swap for this polish. But I must say, this is the third time I try to wear it. The first two times, I would start to apply it and it was just a mess. Which leads me to say, I love this polish, it is gorgeous once you have it on, however, it is one of the hardest applications I have ever had to deal with. The first coat is sheer. Just so sheer and as you apply it, it just goes on watery and it is a mess. Then the second coat helps a bit, but it is still watery and it is just very hard to work with. I had to put on five, thick coats. Of course, as you all know, I hate VNL and with the first, at least three, you will still see some VNL. Not as much as the first or second. The first two, its hard to see anything but a bit of polish. Then with the third coat, you have to start working with the glitter, The first two coats are really just to get a color on your nails but you do get a glitter or two. This is, in the end, what makes it, in my opinion, be such a gorgeous jelly sammich. So , I applied the first two coats. I did not worry about glitter. I really just wanted to get color on the nail. With two coats, there was a lot of VNL, but it also had some glitter. The third coat seals in the first layer of glitter and starts off your jelly sammich. However, it still has VNL. so, I added one more coat, to get it opaque, and if glitter appeared, all the better. The fourth coat, ,made it opaque but the tips were still light. It is the fifth coat that added the last pieces of glitter and added the last top coat that made it look like the perfect jelly sammich. So as I said, it was a hard application to work with. It took five coats to get no VNL and even then, the tips were still a bit on the light side. I did not need a toothpick to get the glitter out, which is a good thing, but you do have to dip and get a few extra stokes here and there to get some extra glitter. Anyhow, the point is, the pictures I am about to show are five coats. That is what it took to have no VNL and it is followed by a thick coat of Seche vite. I love the end result of this polish. It is just a perfect looking jelly sammich. Not anything I would be able to do on my own. The application was really difficult, I must admit, but it is worth it. I would definitely wear this again. Anyhow, you tell me what you think. Would you put up with a real difficult application to end up with these results??? Here are the pictures but first
Emily De Molly "Majestic flight": a jelly blue/green base with green, orange, blue, copper and purple pieces of glitter. Very sheer with the first coat. Opaque at the third coat but if you like to have no VNL, five coats is what did it for me.
Look at all those colors...
OK ,so as I said, this is five coats. But if you look closely, you can see I got light handed on my nails when I got close to the cuticles, so as you can see, it is a bit lighter there. So that is what three coats would be like. Quite a bit more on the sheer side.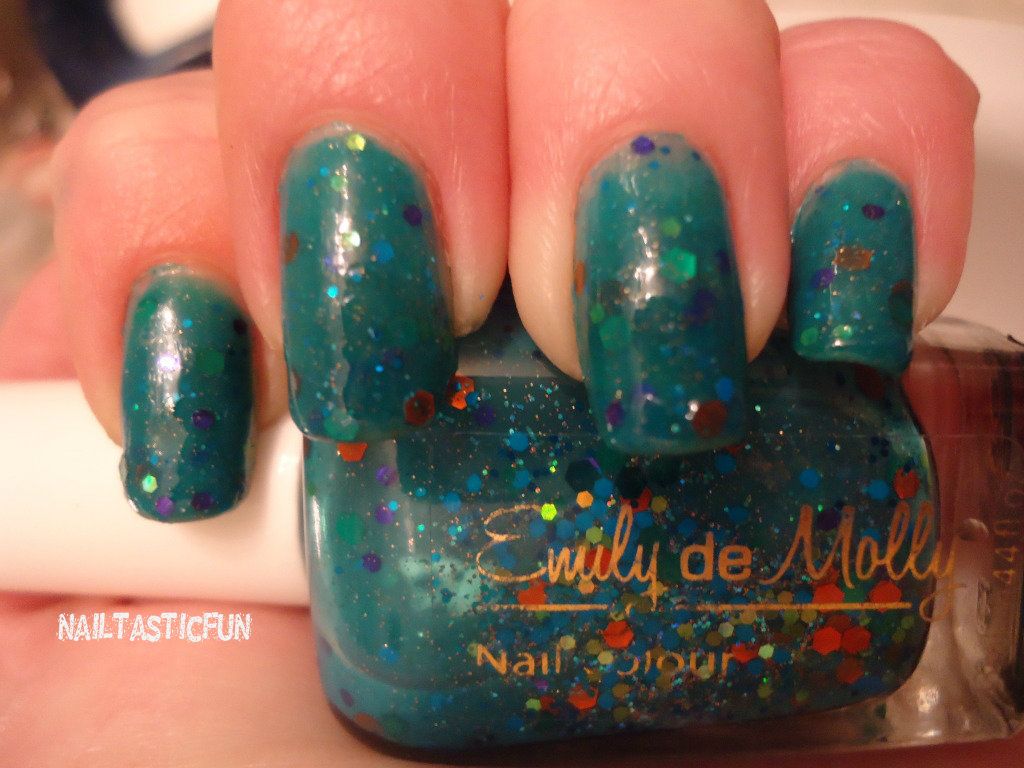 So, whereas the application was hard to work with, it is the extra added layers that makes it a perfect jelly. Look closely at the pictures and you see how the glitters are under a coat of polish. some are easier to see then other. Some came out on the first coat, some on the fourth. That is what, in my opinion makes this the perfect jelly. Different layers of glitter all over.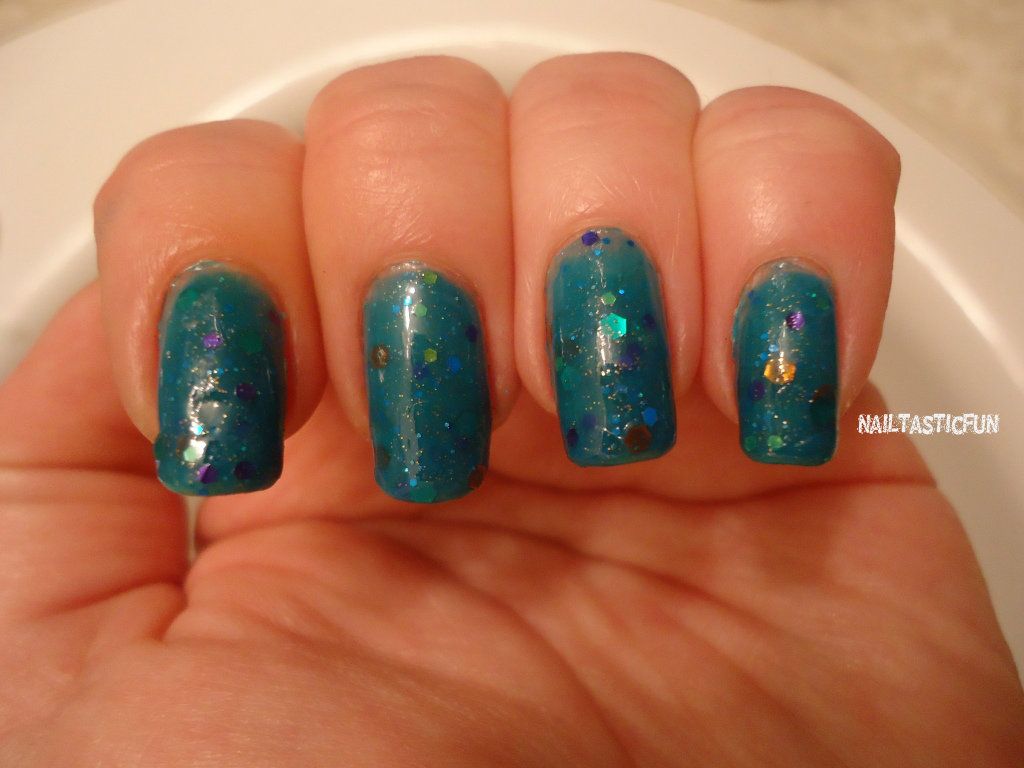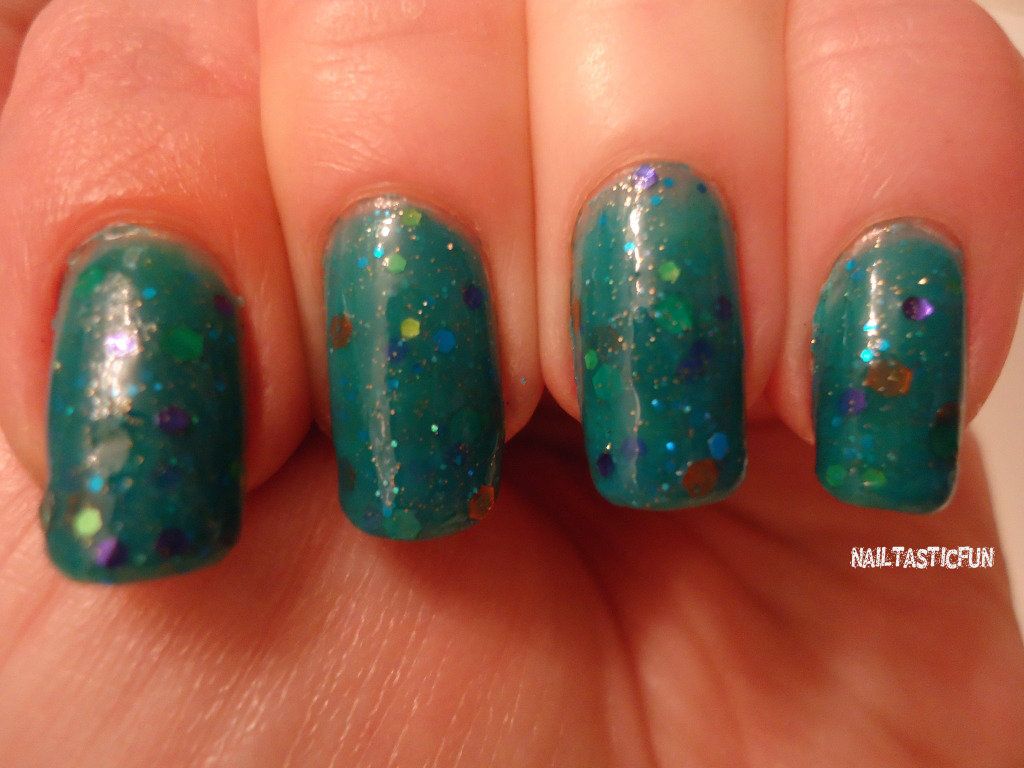 Please don't mind the lack of clean up. I actually did do a clean up job, but it is not until you take a close up picture that you notice the little things. As I have said many times, I am no perfectionist This is not my job. This is all done for my love of polish and sharing things with you guys. I agree, it should be nicer and by adding these pictures, I learn to do a better job!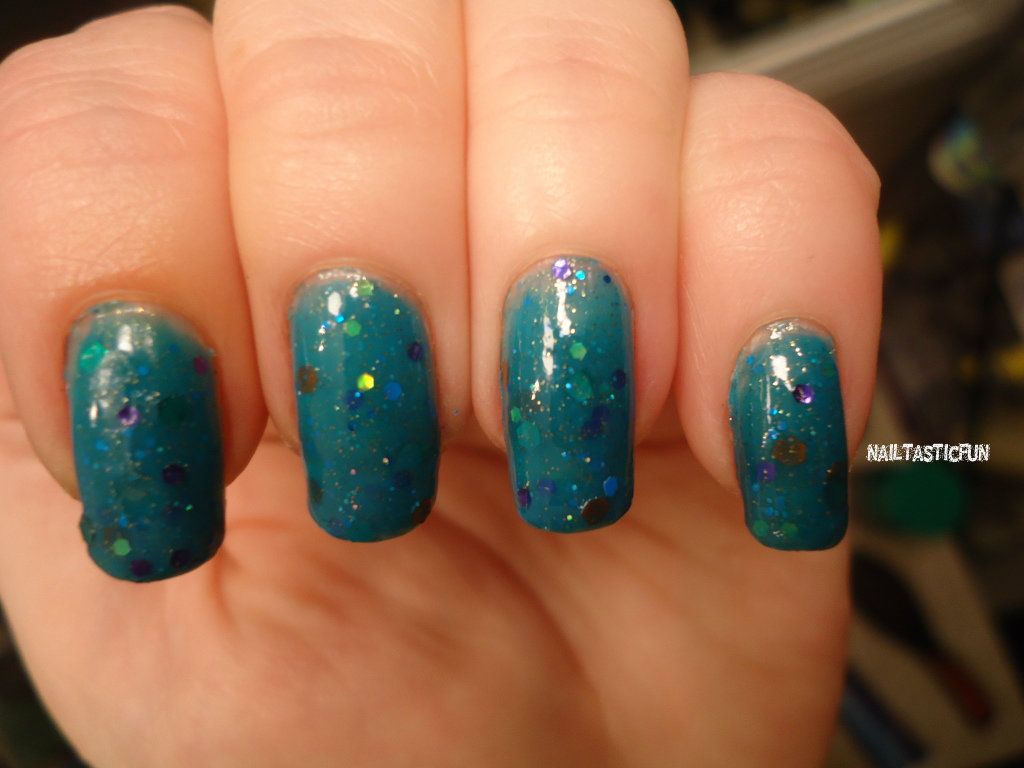 If that is not jelly perfect goodness, I would like to know what is. As I said, application was tough and it took five coats, but I believe that is what made it such a gorgeous jelly. You can see the different layers of glitter. Some have more polish on top then others. I just love it all..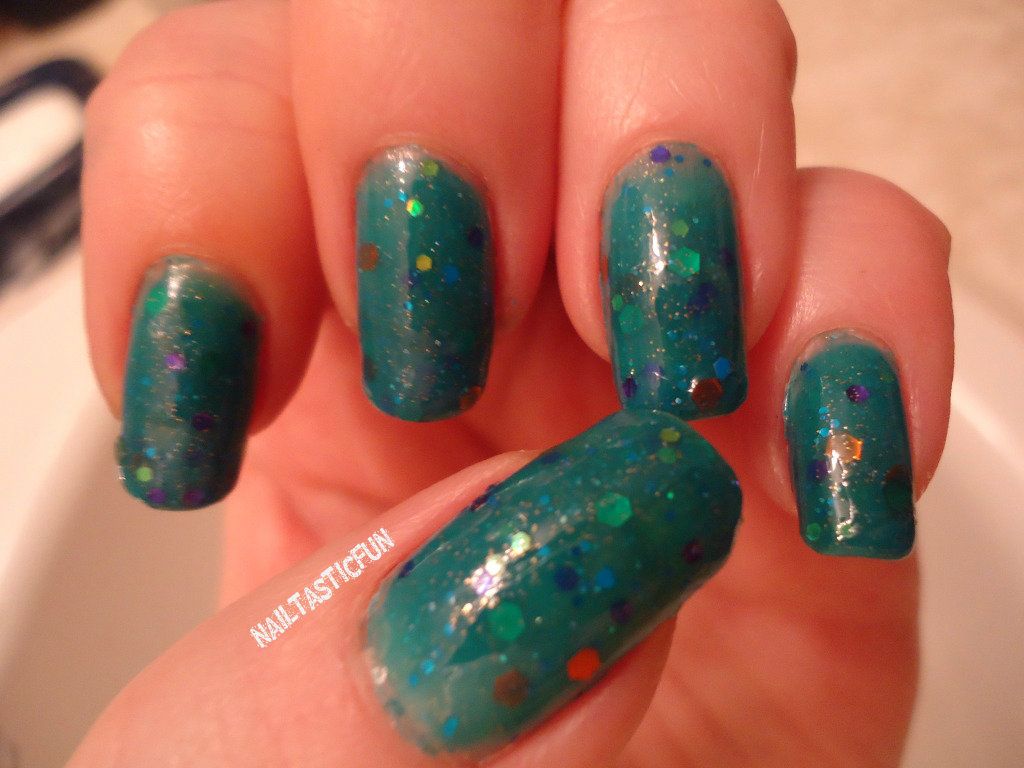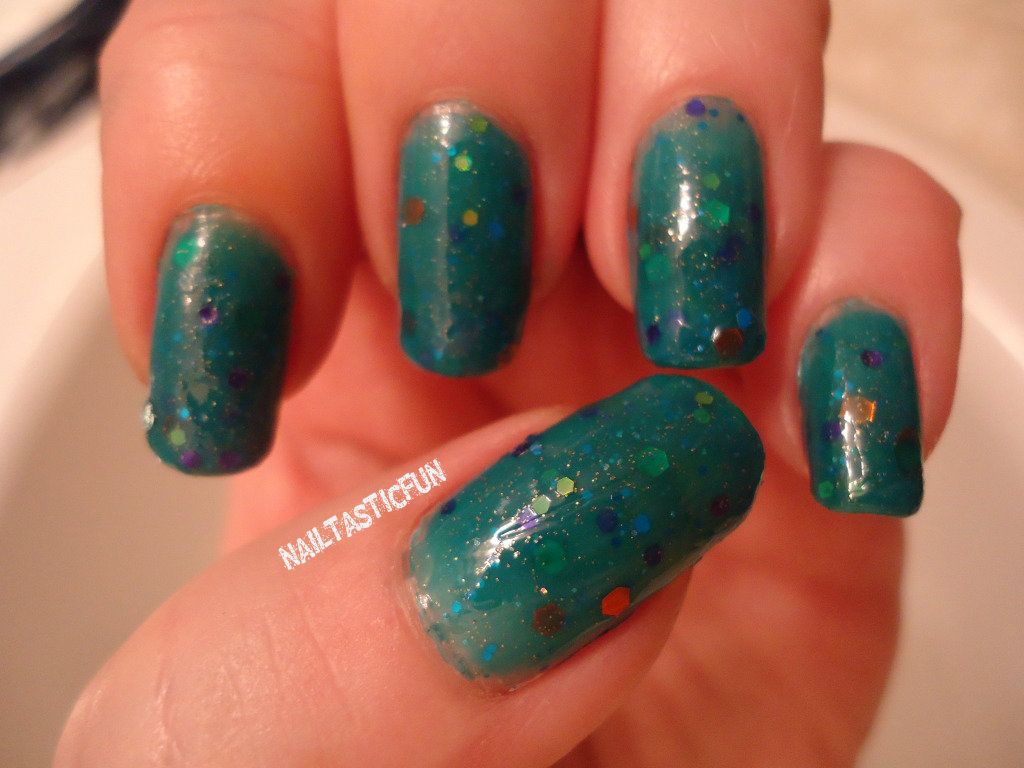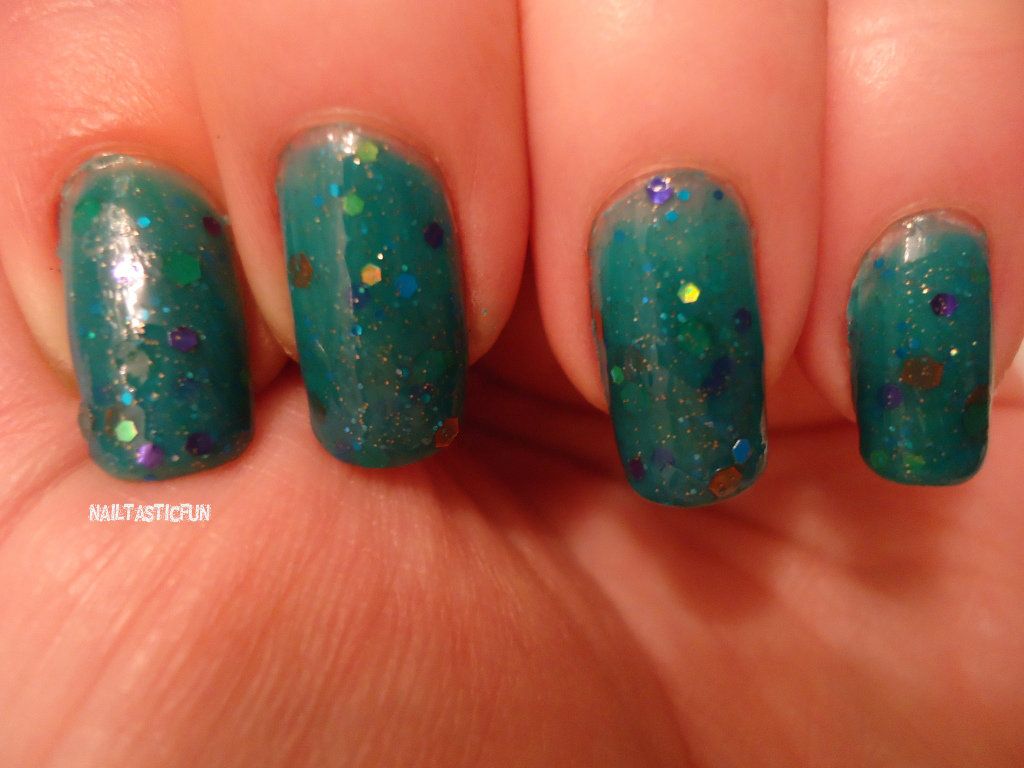 Here's a close up. As I said, I just hate VNL, so I wasn't happy until five coats, but as I said, right at the base, between my nail and cuticle, that is what three coats looks like. Still a jelly sammich ,just less opaque as my five coats.
See, even with five coats, you can see the tips are not as opaque as the rest of the nail. So yes, it was five coats, but on tips and sides, I did have to add extra. I also always do the free edge for extra wear.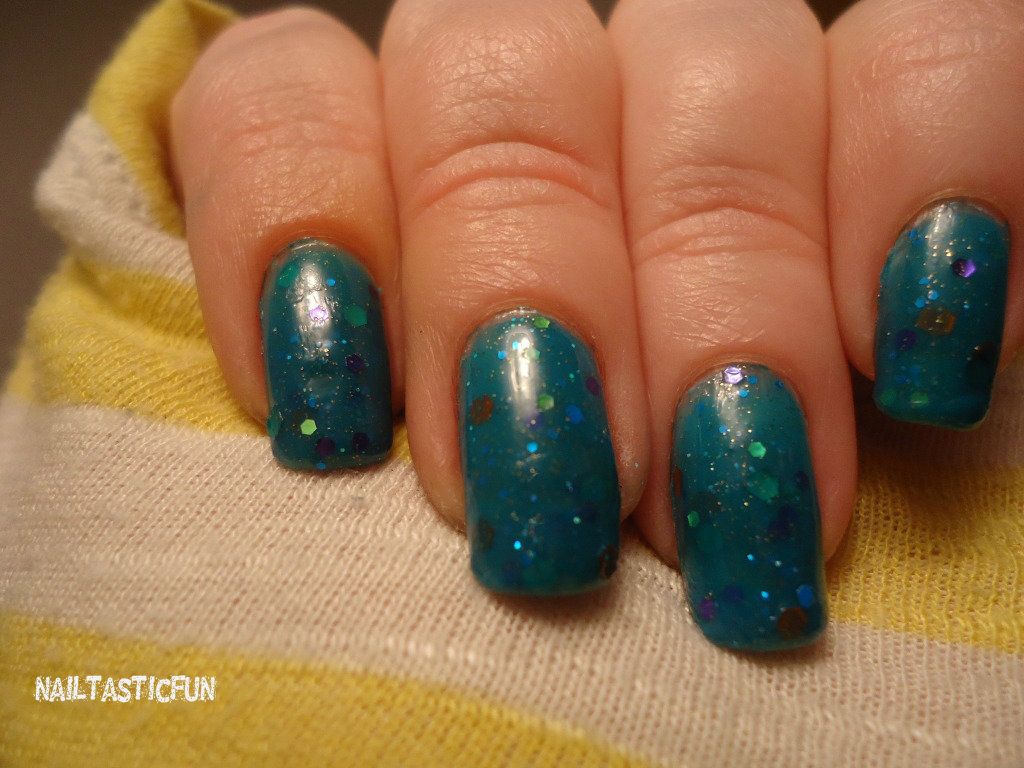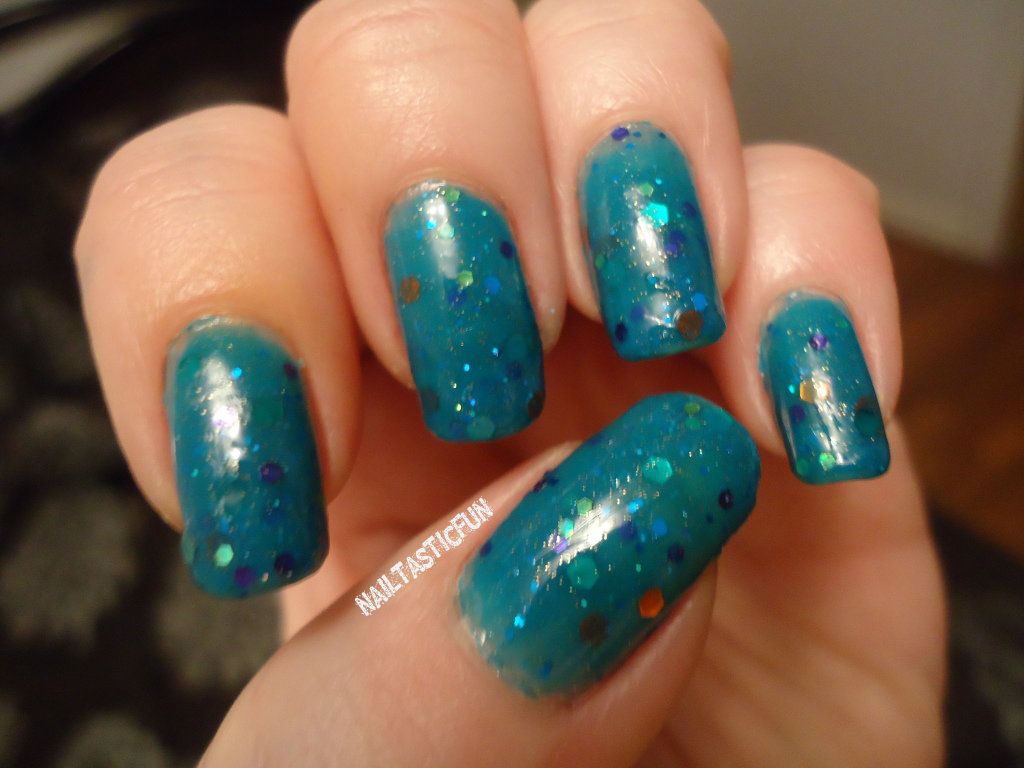 So, there we have it. As I said, I did not know this brand when I got it so I looked it up. I must say again, go see their
etsy shop
. They have so many pretties. Yes, this was, as I said, very difficult to work with. This was my third try and I made myself keep working through it. I am glad I did because it really was worth it. It is odd, it was one of the hardest applications I have ever dealt with but one of my favourite indies ever. I am, as you know, in love with jelly manis right now and this was beyond the perfect jelly in a bottle. So, it may just be me, wanting no VNL and having to add more layers that made it harder. I have heard that the other polishes are not as hard to work with. I will be making another order soon so I can tell you my opinion for myself. They all look so gorgeous, I am excited to try them. But for now, this is what I have. So, what do you guys think of it? Do you like it? Have you ever had a polish that was really hard to work with? One that you gave up the first couple of times but when you finally gave it your full attention, it was hard but so worth it? What do you guys think of this one? Are you with me in not liking VNL? Would you have stopped at three coats? Do you own any "Emily De Molly" polishes? If so I am very curious to know if they were hard to work with or what?? Please let me know. I love hearing from you guys! Apart from that, hope you liked my post and pictures and will talk to you again soon.:)