Hey Hey,
Hows everyone's evening going? Mine is quiet so I decided to do a post. And I have a gorgeous, and adorable polish to show to you guys. If you haven't heard of Whimsical ideas by Pam's polishes, you are missing out. I have showed you guys my other polish I have by her called "Suess". If you missed it, take a look at it
here
. Its another beauty. Also, take a look at her
facebook page
which is where you can see her polishes and where you can find her e-mail address to order some polishes. She does , however, only ship to the US. I had to go through a third party to get mine and it was quite a hassle. It took about 3 months for me to get them. I thought they were lost. So I was beyond happy when I finally got them and appreciate them that much more now!!!
So on to "Hatched" which is a pretty pastel yellow with dark and light pink glitter along with blues, greens and even tiny silver bright and hex glitter. I know it is the Christmas season but this polish just reminded me of Easter! It has great application. I have on 3 coats because I wanted it to leave no VNL. And what absolutely made this mani beautiful was my Seche Vite top coat. I never really wore top coats before. I would here and there but never really thought they were that important. Especially since I change my nails so often, way before any chipping usually happens. But I have to admit, seche vite, which for those who don't know and with me being French can easily translate , means "dry fast". 'Another thing I didn't know was that you're supposed to add it when your polish is still wet. Well tacky. I used to always wait until it was completely dry and then add it. But I added it at the right time and it makes more sense. Helps with the drying. It just made it look so smooth and perfect. Exactly what this polish needs to give it that soft, smooth look. And this contradicts what I just said about always changing my nails but I was super busy the week I was wearing this so I ended up keeping it on for 9 days. 9 DAYS!!! For me that really is something! Not only was I busy but I really am in love with this polish and it just looked great. There was no chipping, even after all this time. Will show you a pic of that later but for now, on to the polish!!! Enough of me babbling:)
So, as I said, these are 3 coats topped of with seche vite.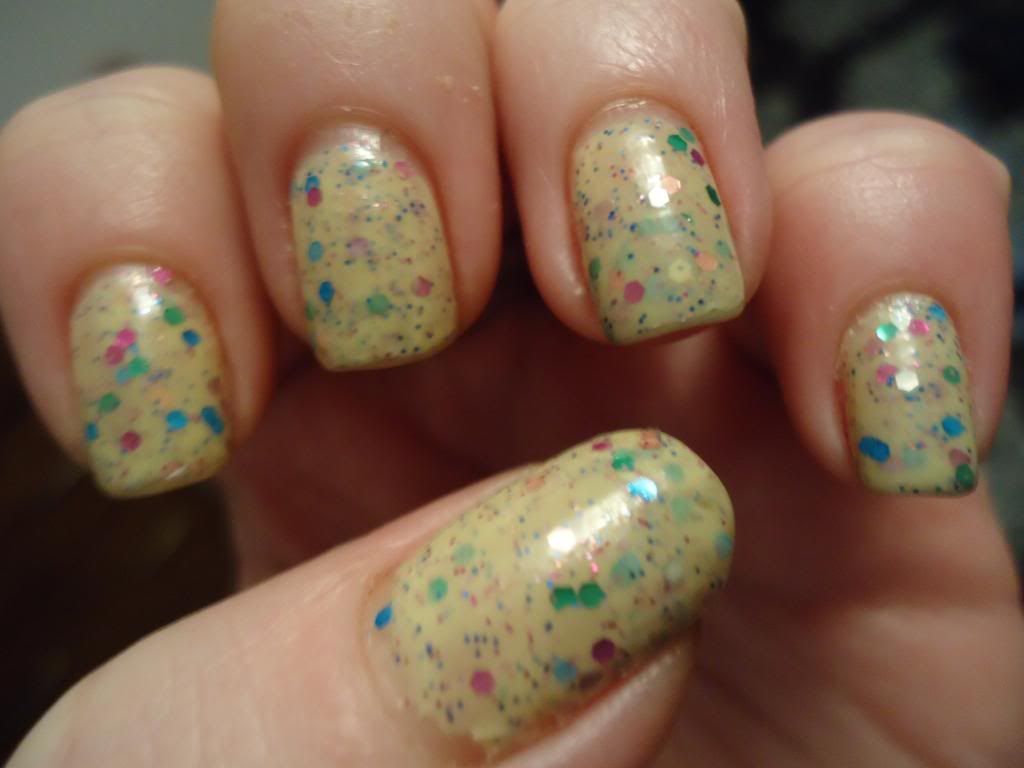 Just look at all the glittery goodness:) This polish is just so pretty, delicate and cute. Total girly polish;)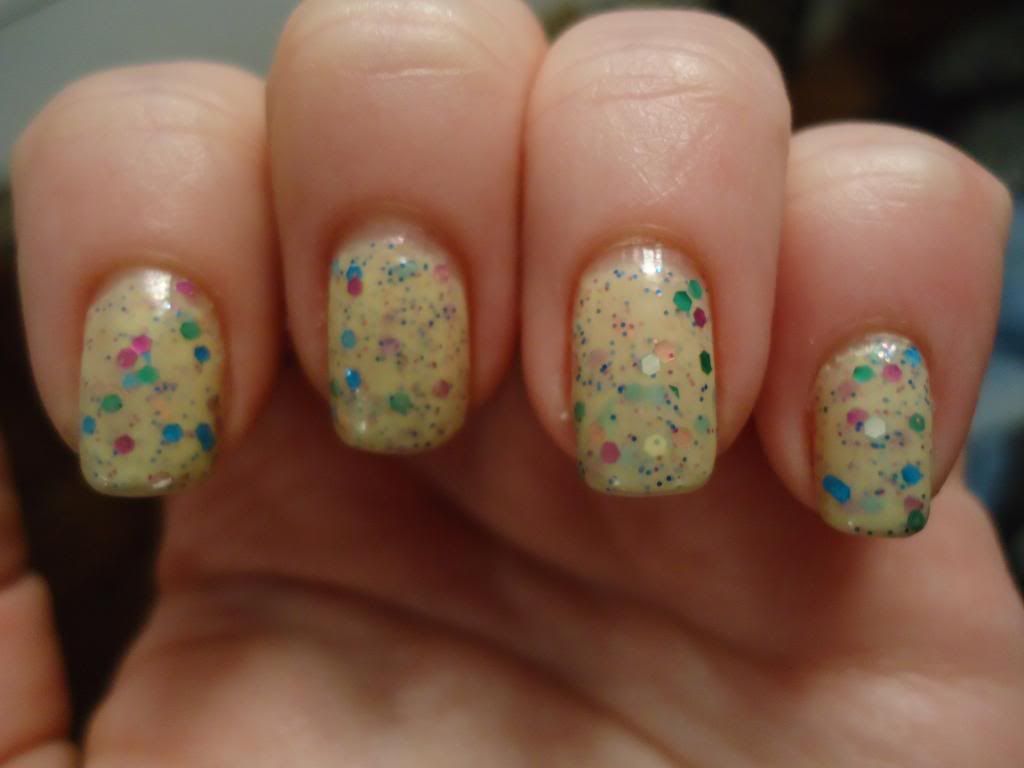 I think "Hatched" is the perfect name for this polish:) So reminds me of Easter. Just the pastel yellow and all the pastel glitters.......
What I love about this polish is that by adding more then 1 coat, you really get that perfect "jelly" look:)
Sorry about the lack of clean up in some of these. They always look fine to my naked eye and its not until I look at the pictures to I see all the bad spots..:(
Prior to putting this on, I did a major cleaning of my hands. You know how much I hate showing my right hand because of al the yellow stains I have. Well I bleached it and scrubbed it with whitening toothpaste and they came out quite nice. Therefore, I will show some right hand pictures:)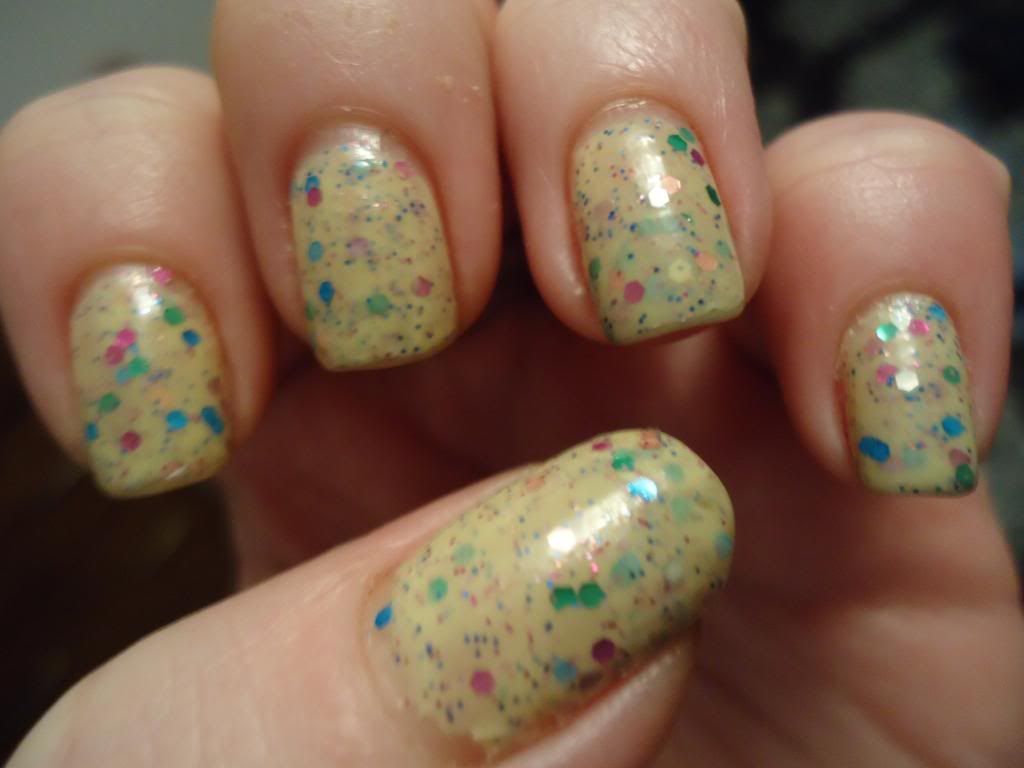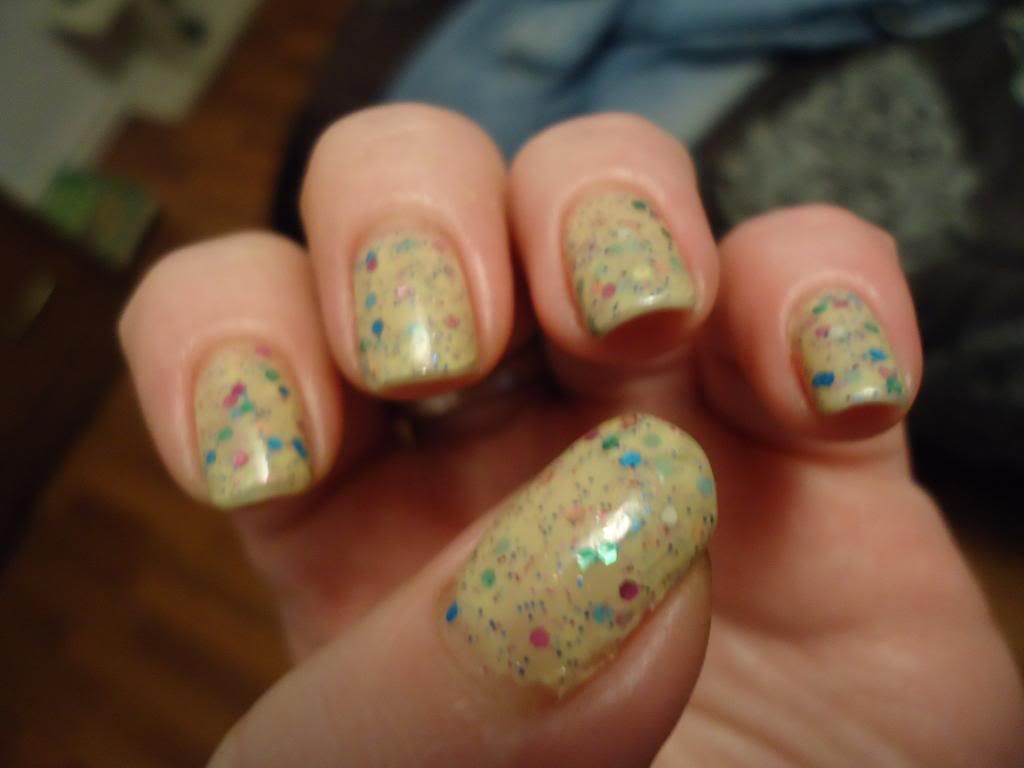 And now, they're not the best pictures but I just wanted to show how great seche vite works. These were taken 9 days after I first put my polish on. And look at that! Would think it was but a couple days old!:)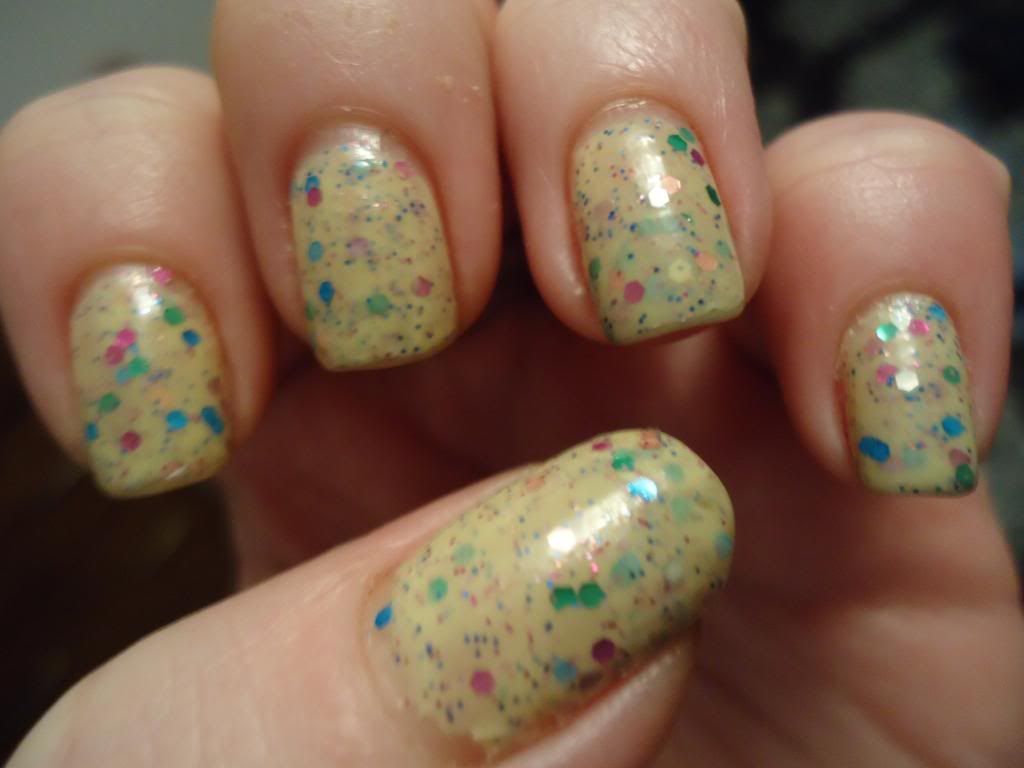 I am definitely a seche vite customer for life!! And, of course, Whimsicals for that matter:) WE must try and convince her to ship to Canada!!! lol....
So I hope you guys enjoyed my pictures. As always, my posts are very picture heavy:) What do you guys think of "Hatched"? Does it remind you of Easter as well? Which , if any, Whimsicals do you own? Or which would you love to have??
Till next time:) All the best:)
And remember, lets stay drama free but never polish free:):)