Hey guys!
so I have just a quick post for you guys tonight. I actually wasn't going to share it with you guys because I don't think the pictures came out that well. Meaning, they do NOT give this gorgeous polish any justice but I love it so much, I thought "WHAT THE HECK". You guys know I am not a pro so sometimes my pics won't be the best although I do try! Anyhow, this is a polish I saw awhile ago and fell in love with. I was lucky enough to get my hands on it and so glad I did. A bit about this polish...
Toxic and Timeless: It is a green jelly with large and small gold and blue hexes and bars . There's also a holographic nature to it. It's the PERFECT jelly sammich in a bottle. What I loved best about this polish was the application. I have had polishes like this before and they are a pain in the you know what when it comes to putting it on and a few I had to take off because it just did not look right. For my mani, I wore 3 thin coats and application was perfect. Went on so easily and looked GREAT!!! As always, I topped it with seche vite which is my go to top coat especially for anything with a lot of glitter but lately I have been getting those stupid air bubbles (see my post on "
clowning around
) on all my mani's and it is really starting to annoy me. I love what Seche Vite does! I love how smooth it makes your mani, the drying time and apart from the bubbles I really can't say anything bad about it but those bubbles are really starting to be a problem for me. If I am not using a glitter polish, I will use other top coats. For example if I am using an Essie, I will use my Essie top coat , which I use for most other cremes and such, or OPI top coat when wearing OPI's. But I think it is time I start looking for another heavy duty top coat....Any suggestions out there??
Anyhow, as I often do, I am getting off topic here..... Back to this gorgeous polish. As I said, this is three thin coats followed with a heavy coat of Seche vite. Lets get to the good stuff:):):):)
Toxic and timeless
(in sunlight)
AAHH! Just look at the jelly goodness!!!
I LOVE how easily it layers so that it creates that wonderful jelly sammich look!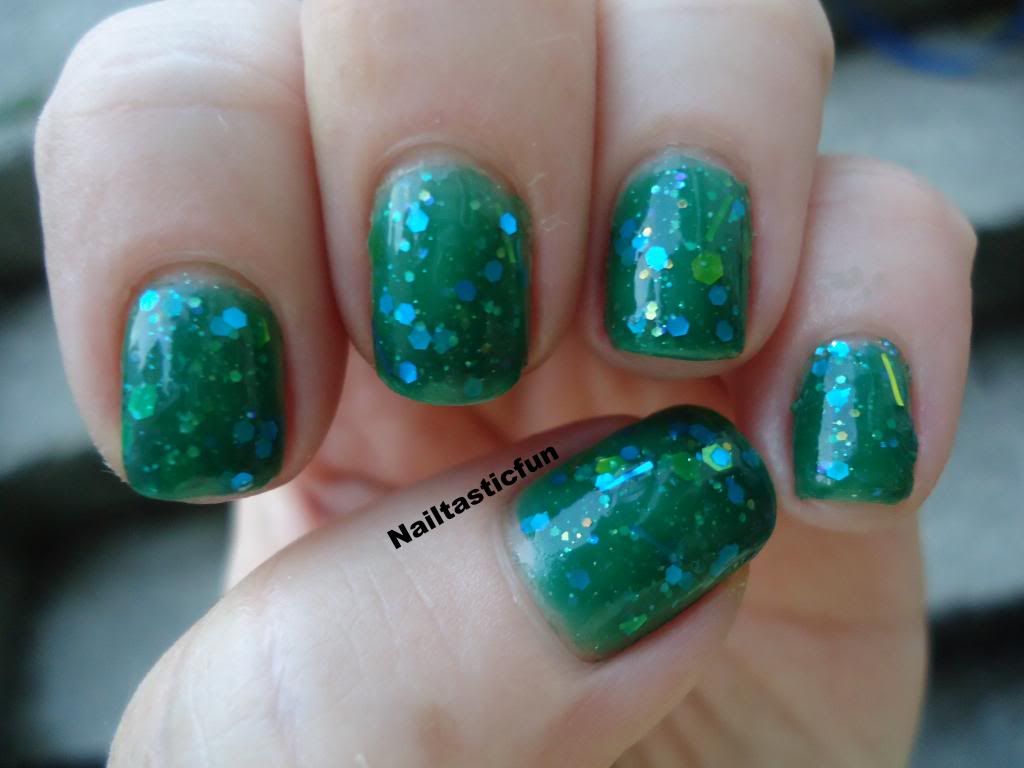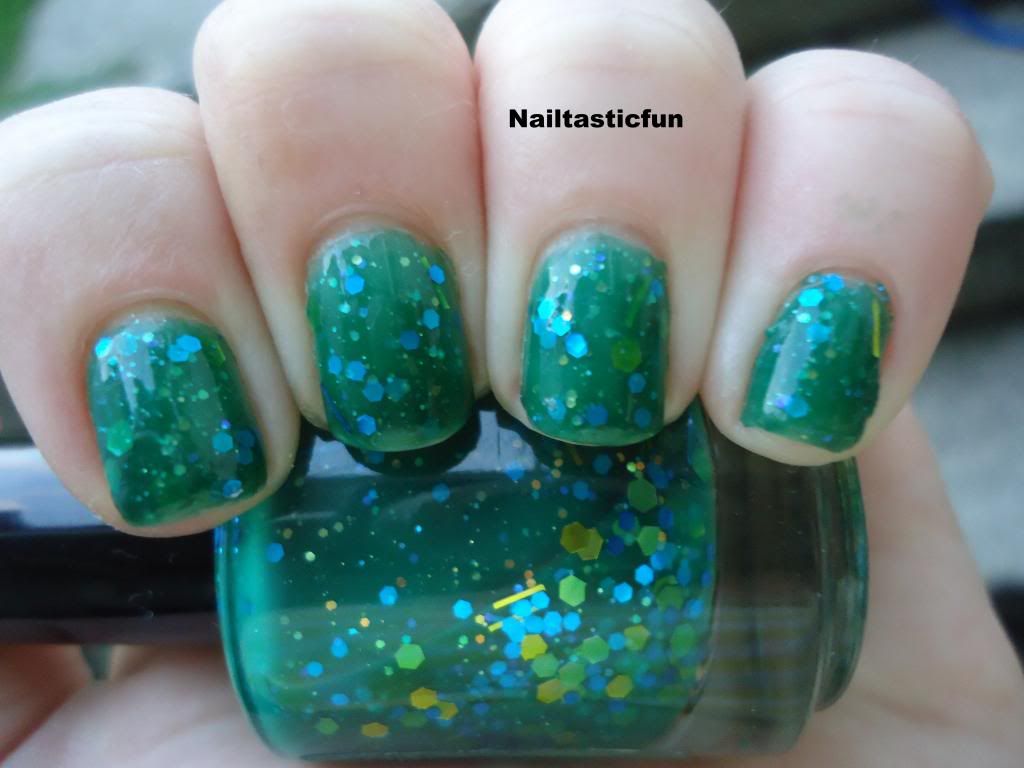 Yes, there is so VNL but it wasn't bad enough to bother me....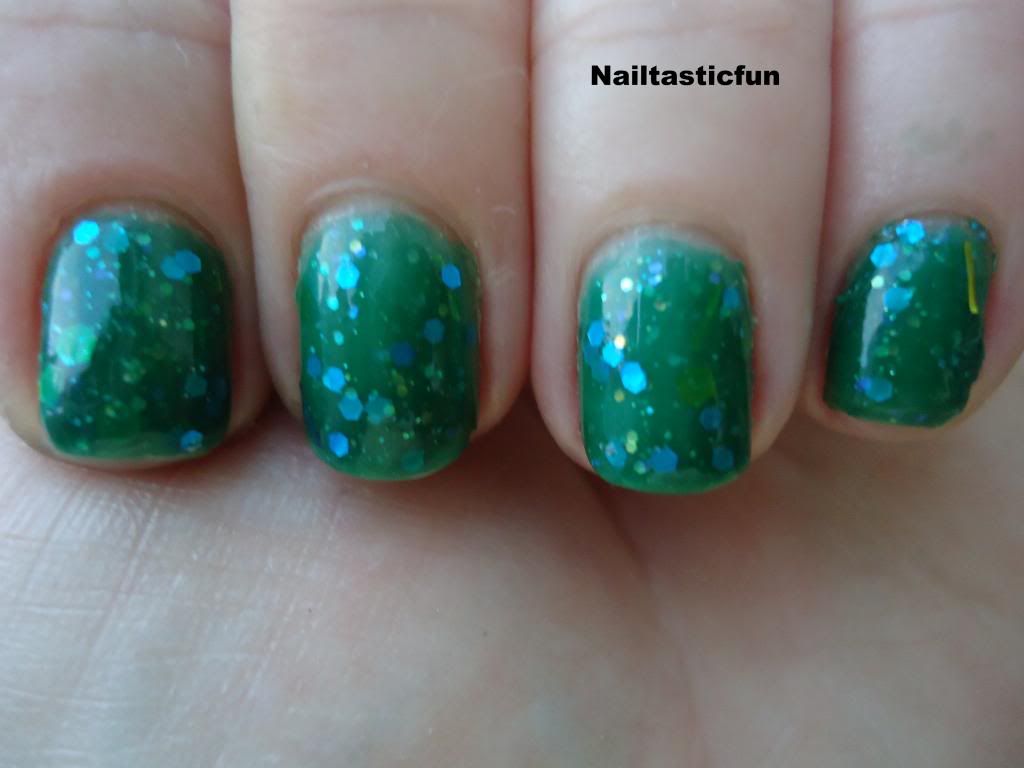 Indoors
So, even though, as I said, my pictures are not the best quality, they are still good enough for you to see how gorgeous this polish is. I LOVE LOVE LOVE it! I really do. Again, I love how easily I was able to apply it because, in the past I have had a hard time with glitter based jellies. I have also seen swatches with a color underneath and that looked cool also but I love the look of this on its own. Pahlish can be bought at
online here
. IF you go to Etsy you will find it but it's in vacation mode because she sells here. They are sold for 9$ a bottle US and she has a new fall collection out right now that is just GORGEOUS!!!!. She is also on
facebook, here
So, what do you guys think of this one? Fan of jellies? Own any Pahlish polishes?? Love to hear from you guys:) Hope you enjoyed my post:)
*all polishes in this post were bought with money from my own pocket. Nothing was provided for review and all opinions are my own and not influenced.